A reception area is arguably one of the most influential areas in an office environment. The reception creates the first impression of the company and must have that warm welcome feeling making you believe that you are dealing with a successful company.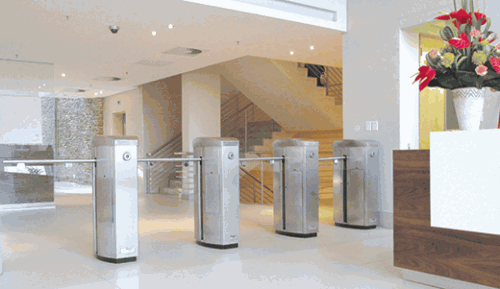 Genius drop arm pedestrian barrier.
Although looks are important, access needs to be controlled, especially if you take into account that the reception area is also your main point of entry for your staff and customers. You don't want uncontrolled access. But, how do you enforce access control without creating an industrial or prison-like feeling while at the same time have access control that is robust and secure without compromising the look and feel. Your access control must blend in with your surroundings.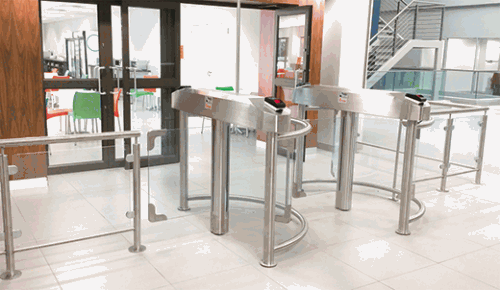 Cyclone half height glass turnstile.
Boomgate Systems offers a wide variety of equipment, ranging from manual, semi-automated as well as fully automated products. The company does manufacture equipment in-house, so customisation of its products like filler rails to close open spaces that need to be closed in between the equipment is a must. The material of choice is Stainless Steel 304 brushed, as Stainless Steel blends in very well with the surroundings and is very durable.

Pro-wing Speedstile.
Boomgate Systems' range of entrance control Speedstiles come with fully programmable controllers, from controlling the opening and closing speed, stopping tailgating and auto-close function if no person walks through, securing your reception at all times.
Boomgate offers the following products, specifically designed for every environment:
• 180° Pro-wing speedstile with 24 V DC brushless motor.
• 180° automated paraplegic swing gate with 24 V brushless motor.
• Semi-automated paraplegic swing gate with maglock.
• Drop arm barrier with 24 V brushless motor.
• Pro-wing retractable speedgate with 1800 mm high glass panels.
• Stainless steel filler rails with glass infill fully customisable.
• Euro-style waist-height turnstile.
• Cyclone glass half-height turnstile.
• All the above automated products are suitable for COVID hands-free access control.
View the original at: https://www.securitysa.com/13225r